Walnut Flooring, also known as Walnut Flooring, is a type of natural wood floor made from Walnut wood. Walnut wood is imported directly from the US or Europe. Walnut has a chocolate-brown or light-brown wood core, sometimes with slightly yellow or reddish-looking wood. The wood grain is cream-colored but is not used in the manufacture of wooden flooring or furniture because it is soft and prone to termites.
Walnut Wood Flooring
Walnut flooring or Walnut flooring has natural beauty from tones to wood grain. A light brown or dark brown tone of Chocolate gives a refreshing look, as well as elegance and class. Walnut wood tone is also dark, cold but not as dark as Chiu Liu wooden floor. Walnut flooring has a similar tone to the light colored chiu olive flooring. Nice walnut veneer, large corrugated or swirly pattern, as well as straight-lined wood. However, depending on how the sawn wood is cut, the walnut parquet will have the shape and proportion of the larger pattern.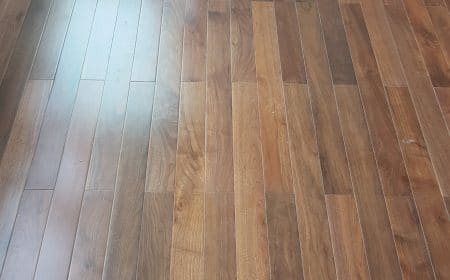 One point you need to pay attention to the walnut wood floor, with the small size of 90 mm or 70 mm, the walnut wood floor limits the eyes as well as the eyes. But for those who prefer the wide version, they will have to accept the fact that the wooden floor surface will have many live eyes alternating with dead eyes naturally.
Walnut hardwood flooring is relatively hard, stronger than Teak wood but not of Cam Xe or Chiu Liu. Walnut wood flooring is relatively stable, less expansion and warping as well as resistance to termites. The color of Walnut Wood Flooring has 2 main tones after UV coating is light brown or dark brown. However, under the impact of lights or lighting as well as changing the viewing angle you will feel the change of Walnut wood color.
03 Disadvantages of Walnut wood floors
High price: Compared to imported woods such as Oak flooring, Pine wood floor or some popular natural wooden flooring such as Cambodian Lao, Teak Laos, Walnut wood flooring is much higher. The price of Walnut wood floor ranges from VND 1,300,000 / m2 to VND 1,500,000 / m2 (excluding installation fee). If you are passionate about the beauty of Walnut wood but the budget is limited, you should use Walnut Engineer.
Difficult to color: With the dark, dark nature, it is really difficult to change the color or on Walnut wood flooring. You can only make Walnut wood floors browner or darker, but not light. Eyes: This is a minus point for large Walnut floors. The living eye and the dead eye are the hallmarks of walnut wood.